Unsubscribe Footer
If you are sending marketing emails, it is important to give your recipients the option of removing themselves (unsubscribing) from your list. In fact, this is a requirement of the CAN-SPAM Act.
Our unsubscribe functionality allows you to easily insert an 'unsubscribe footer' at the bottom of all of your emails that have been sent from a particular user. The footer, which you can edit to suit your personal preference, contains an unsubscribe link that allows a recipient to remove themself from your list and provide optional feedback about their reason for unsubscribing. If a recipient unsubscribes from an email, you will see the unsubscribed event on your "Reports > Activity" page and the email address will be added to your account's "Reports > Suppressions" page - future sending to the address will be blocked until the suppression is removed.
The unsubscribe feature can be enabled for an SMTP User, Authenticated IP Address, or API key. For example, to enable an unsubscribe footer in your emails for an SMTP User, visit the "Sending > SMTP Users" page in your SMTP2GO control panel. Then, edit the relevant SMTP User and enable the "Unsubscribe Footer" option.
If you would like to have the unsubscribe link at your own domain name, you'll need to firstly set up a sender domain on the "Sending > Verified Senders > Sender Domains" section, and make sure to configure a CNAME record for tracking purposes (the optional final step of that process). For example, if your website is yourdomain.com, you might like to have your unsubscribe links at http://track.yourdomain.com. Our system checks the domain name of the sender's email address in order to determine which tracking domain to use.
Important: Remember to send a test email to yourself before sending an email to your mailing list, to make sure that the unsubscribe footer appears correctly.
Additional Information
If you need to place unsubscribe links in other areas of your emails (for example, at the top) you can manually place an %%UNSUBSCRIBE%% tag where necessary, which will be automatically replaced with an unsubscribe link (as long as you have enabled the unsubscribe footer checkbox). In this case, you can even leave the footer fields blank if you don't want any footer added.
Forwarded Email and Accidental Unsubscribes
Sometimes a recipient might forward your email to a friend, and if that friend doesn't want the email they might unsubscribe. When they do this, they would not realize they had unsubscribed the original recipient.
To reduce the likelihood of this happening, you can modify the unsubscribe text to include the email address that is about to be unsubscribed.
You can add the %%EMAIL%% tag to your email to make it clear which email address is about to be unsubscribed.
In your SMTP2GO dashboard, click "Sending > SMTP Users".
Click the User sending your email campaigns.
Choose the "Unsubscribe Footer" tab.
Add the %%EMAIL%% tag to your unsubscribe link text. It should look similar to this:

<a href="%%UNSUBSCRIBE%%">Unsubscribe</a> %%EMAIL%%

or as in the example in the image below: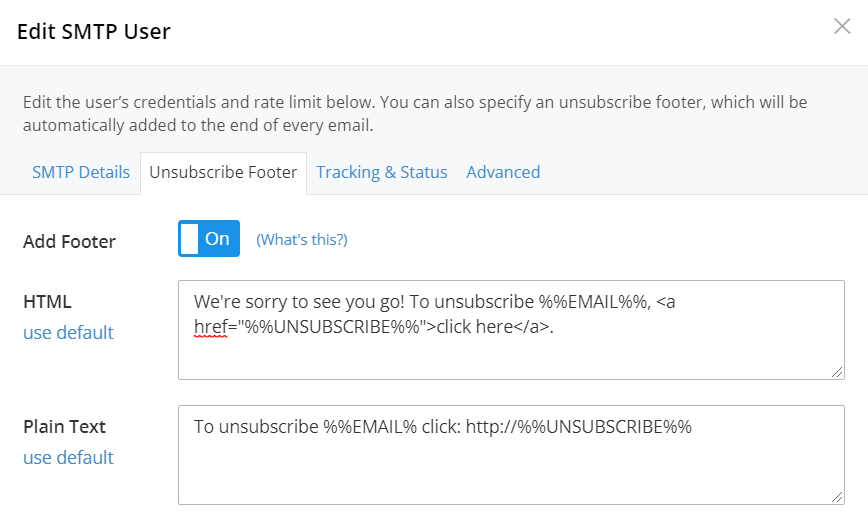 Different Languages
By default, the text on the unsubscribe page will display in the language that is used by the recipient's own web browser.
Our current supported languages are:
Arabic (ar), Bulgarian (bg), Catalan (ca), Czech (cs), Chinese (zh), Danish (da), Dutch (nl), English (en), Esperanto (eo), Finnish (fi), French (fr), German (de), Greek (el), Hindi (hi), Italian (it), Japanese (ja), Korean (ko), Lithuanian (lt), Norwegian (no), Polish (pl), Portuguese (pt), Romainian (ro), Russian (ru), Slovak (sk), Slovene (sl), Spanish (es), Swedish (sv), Thai (th), Turkish (tr).
Please let us know if you need another language added.