Finding your Support PIN
Your account Support PIN is needed when contacting support so our team can verify account ownership, access your account, and assist you. The Support PIN is a 5-digit number that is uniquely generated for your account.

How to find your Support PIN

1. Click on the 'Support' option at the top-right corner of your dashboard.
2. Under 'Support PIN' in the drop-down menu, click the blue 'Generate' button.
3. The 5-digit support pin will be displayed in place of the button.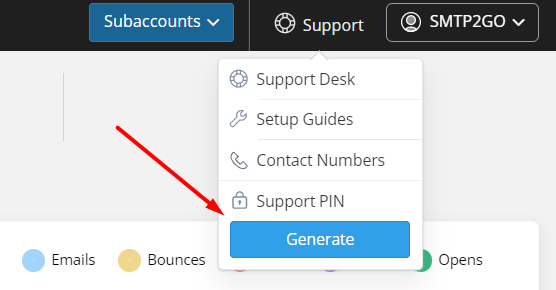 What do I do with the Support PIN?
When you contact our support team, you will need to provide the 5-digit pin number so they can access your account and begin assisting you. If you make contact by phone and cannot provide the pin, our team will not be able to assist further as it is needed to prove ownership and gain access to the account details.

What if I don't have the option to generate a Support PIN?
If you are on the free plan and your account is older than 14 days, you are limited to ticket support only. Please go to 'Support > Support Desk > Submit a ticket' and our team will get back to you as quickly as possible.