Two Factor Authentication - 2FA
Two-Factor authentication (also known as 2FA) adds an extra layer of security for your SMTP2GO account. It will require that you know your account's password and receive a time-sensitive code from your phone each time you log in.
If you would like to enable 2FA for your account, you may do so by visiting the "Edit Team" option from the drop down on the top right of your screen where your name is displayed: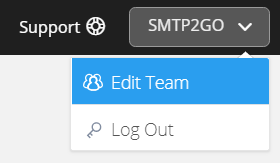 To edit, remove, or enable 2FA (2 Factor Authentication) for yourself or a particular team member, click the down arrow next to a team member's email address on the right-hand side of the table (near the "2 Factor Auth" column).
You will need a third-party application (such as Google Authenticator or Authy) on your phone to use 2FA or you can choose to use the SMS option. If you lose access to your phone and can no longer sign into your account, please contact support for assistance.