Troubleshooting Connection Issues
If you encounter intermittent connection issues or are unable to connect successfully to mail.smtp2go.com (or one of our static IPs) then this article provides some common causes and basic tests which can help to answer:
Why a connection is failing,
Why an SMTP server is not sending email,
If something is blocking communication with the SMTP server,
If the SMTP service is currently online, and
Is the service working on any other software or devices.
Error message
Do you get a specific error message when trying to send or connect? This may be helpful to diagnose further if it provides sufficient detail.

Ports - ISP restrictions or blocks
Certain ports can be blocked by your provider/ISP. We recommend trying different port options to see if that allows you to connect successfully. We accept the following ports:
TLS or no encryption > available on ports 25, 2525, 8025, 587 and 80.
SSL > available on ports 465, 8465 and 443.

Firewall or Anti-virus software
A firewall (software or hardware based) may be blocking your connection. We recommend you double-check to make sure this is not interfering with your connection to our servers and you may need to set up an exception rule.

Anti-virus software can also affect connections because virus and malware components are known for generating spam messages. You could temporarily try disabling the software and then try to connect to see if this is interfering.

Configuration changes
Check to see if any networking configuration changes may have occurred in your environment that you are unaware of which could now be affecting your ability to connect. It can also pay to check that your username and password for authentication correctly match a combination from your account's 'Sending > SMTP Users' section.

Connect to an IP
We highly recommend you connect via the hostname mail.smtp2go.com where possible but some applications may prefer connecting directly to an IP - we provide the following IPs for these situations:

North America:
43.228.184.6 or 103.47.204.4
Europe:
103.2.140.82 or 103.2.143.7
Australia:
45.63.29.157 or 45.63.29.168

Alternative tests
If you are having trouble with a specific setup, you can try connecting via a different setup/application to see if that is successful to rule out if it is the specific application is the cause of the connection issue.

You can try to connect using Telnet. A 220 response means you can successfully connect to our servers. For example:

In your command prompt or terminal (if using a Mac), type the following and press enter:
telnet mail.smtp2go.com 2525
The port can be substituted for any of the options we allow. You should then get a 220 response which means you can successfully connect to our servers.
220 mail.smtp2go.com ESMTP Exim 4.96-S2G Thu, 24 Nov 2022 22:28:17 +0000 
If it fails you will see a 'Connect failed' or 'Could not open connection to the host message'.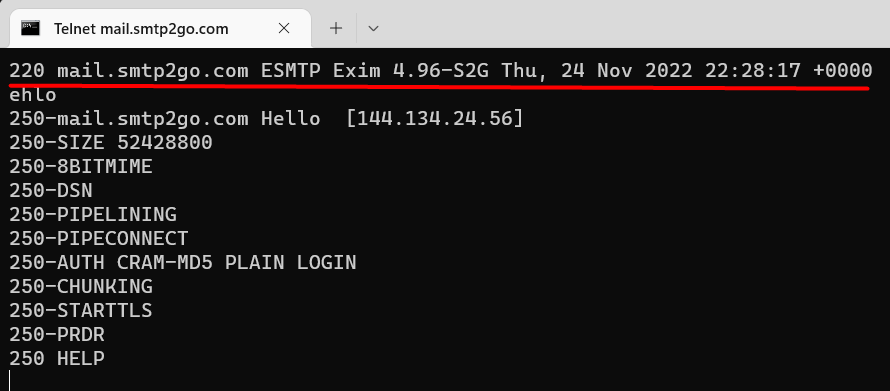 Internet connection
We recommend you check to make sure you are successfully connected to the internet. If you encounter connectivity issues, you may need to restart your router.

SMTP2GO Status
Check our Status Page to see if there are any reported issues that are currently being investigated.

If you have exhausted all options and are still unable to connect to our servers, please reach out to our award winning support team who will help investigate. Please provide as much information as possible such as your current outgoing settings and include the public IP that your server is connecting from as we can check for connections on our inbound server logs.